I just installed ChrUbuntu on my Acer C7 Chromebook and of course it's time to install Citrix.
Get the application from the citrix website.
Select the deb format, and in my case the 32bit version.
Open with Ubuntu Software Center
Enter the root password
And we get the old classic "SSL error 61"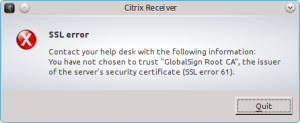 The SSL Error 61, is now easily fixed by copying the certs into the correct directory
sudo cp -v /usr/share/ca-certificates/mozilla/* /opt/Citrix/ICAClient/keystore/cacerts/
That was it.