I Need Help
I would like to have some mini-business cards made. The idea been to give them out at shows, to people interested in recording a show or to potential interviewees. I've also seen them used to add a touch of professionalism to recorded dvd's and cd's. Despite watching the entire http://screencasters.heathenx.org/ series I'm still lacking anything approaching artistic flair.  So I'm putting out the call for help to design the business cards.
The back
Let's talk about the back first. It should have a QR code to the Hacker Public Radio About page and the rest can be anything. At the moment I have the list of contact information but  feel free to do what you like. We'll need to pick the "best" one as there can only be one version of the back.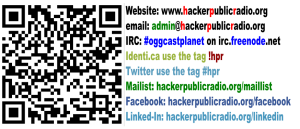 The Front
We have a lot more freedom with the front as there can be up to 100 different versions in a print run. So if you send in a version it's very likely that it will get printed. Let your imagination run wild but keep in mind that the design should embody what HPR is about (good luck with that !)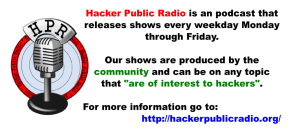 The site moo.com where I'm going to get them printed has design guidelines and the size you are working to is 874 x 378 pixels @ 300dpi.
The Prize ?
My eternal gratitude, gratitude of everyone on the planet for not inflicting my attempt at art on them. Seriously I'll add your name to the contributers page on HPR and will also mail you 10 cards with your design. And if you're willing to pick it up or pay the postage you can have one of these computer books.